Q4 Outlook: A-share Sector Allocation
Amid a turmoil in Q4 trigged by concerns about QE exit and Ebola outbreak in the developed world, the global jittery since early October had sent major developed and emerging markets into slumps until reversed by a rebound in US equities in mid-October. The A-share market performed steadily, strong in TMT, computer, national defense, retail, textile and apparel sectors and weak only in banks and appliances.
Impact from Policies
1. Most of financial and economic statistics for August respectively from PBOC and the NBS were weaker than expectation:
a. In August, total financing addition was RMB957.4 billion (below expectation), and loan origination was RMB702.5 billion (within expectation); M2 grew by 12.8% YoY (below expectation) vs. 13.5% in July;
b. Industrial output addition only grew by 6.9% YoY (far below expectation); and fixed asset investment growth fell sharply to 13.3% vs. 17% in July, mainly attributable to infrastructure investment growth which retreated to 16% in August vs. 21.7% in July.
2. The repo rate cut effected by PBOC on September 18 led to a continued expectation on monetary easing:
a. On September 18, PBOC entered into 14-day RMB10 billion repo with a lower rate at 3.5%, further to the previous cut from 3.8% to 3.7%;
b. Responding to the State Council's call for lowering financing cost, PBOC has rolled out price-based interest rate instruments, which are designed to steer monetary market rates into a declining trajectory by gearing down repo rate, and in turn pull down rates of deposit alternatives and mitigate cost pressure of banking debtors.
3. On September 30, PBOC and CBRC jointly announced to ease mortgage restrictions (with a case precedent dating back to October 2008), emphasizing 30% down payment and a floor interest rate at 70% for the first purchase (also applicable for the second purchase if the mortgage loan is fully repaid). The real estate policy easing is noteworthy, although still a tactics to address macro downturn in its nascence by stimulating recoveries in mortgage-driven sales and hence in investment and upstream and downstream demands.
Summary: Since the executive meeting of the State Council on July 23, policies on lowering financing cost (especially the selective monetary easing) have been gradually implemented to address the economy which has signaled to turn sour.
Observations in Macro Economy
1. Due to the fundamental downturn, both the seasonally adjusted CFLP PMI and HSBC PMI retreated in September, lackluster in output with a slight improvement in new orders but continuous drops in prices.
2. In September, coal consumption by power plants decreased by 7.7% MoM, continuing the drop in August. Power output in mid and late September was unchanged from early in the month, indicating a prolonged malaise in power production and consumption.
Figure 1: CFLP PMI (in red) and HSBC PMI (in blue)

Source: Wind Info, as of March 31, 2014
3. Industrial output addition in August recorded a slower growth at 6.9% YoY and annualized growth of -6.8% MoM, suggesting a weak economic momentum.

Figure 2: Annualized growth MoM of China's industrial output addition

Annualized growth MoM of industrial output addition, seasonally adjusted

Source: Wind Info, as of August 31, 2014
4. Infrastructure investment in August grew by 16.3%, a slower rate vs. 21.7% in July, resulting in a continued deceleration in total investment YTD.
5. Property sales in August stayed low. Newly started construction and investment remained weak: the growth YoY for real estate investment in the month fell to 9.9% from 11.9% in July, and declined to 6.2% for newly started construction.

Figure 3: Growth YoY in monthly sales of commodity housing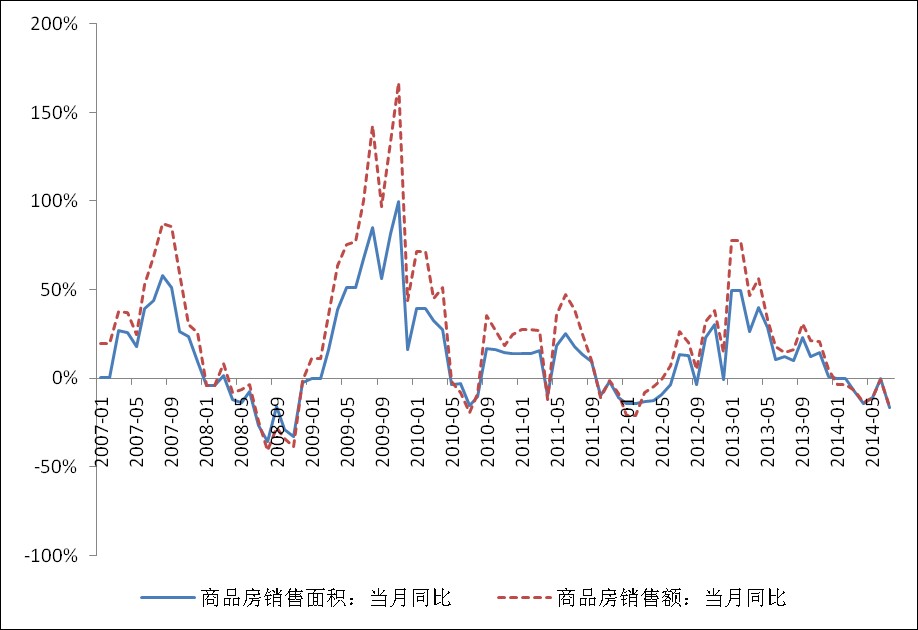 Sales GFA of commodity housing: monthly growth YoY

Sales value of commodity housing: monthly growth YoY

Source: Wind Info, as of August 31, 2014
Figure 4: Growth YoY in monthly real estate investment completed

Real estate investment completed: monthly growth YoY

Source: Wind Info, as of August 31, 2014
Changes in Corporate Earnings
1. The economic slump in August also led to deteriorating profitability of industrials: negative growths were witnessed for the first time since 2012 in profit from principal operations (-0.14%) and profit (-0.6%) of industrials, mainly due to the plummeting revenue growth and the declining industrial product prices.
2. Excluding financials, A-shares in Q2 posted revenue growth of 5.4% (Q1: 3.3%) and net profit growth of 10.1% (Q1: 2.9%). The recovering Q2 profit growth was in line with the improving monetary and financial background and corporate liquidities. Despite the improvements, the growths in interim revenue and earnings in 2014 were slower than annual results reported for 2013 (revenue: 8.3%; net profit: 13%). Looking into the next half year, slower earnings growth is expected for most of A-shares, to pull down the market close to zero profit growth for the whole year.
Figure 5: Growth YoY in monthly total profit from industrials
Total profit from industrials: monthly growth YoY

Source: Wind Info, as of 30 June 2014
Figure 6: Growth YoY in quarterly earnings of all A-shares (excluding financials)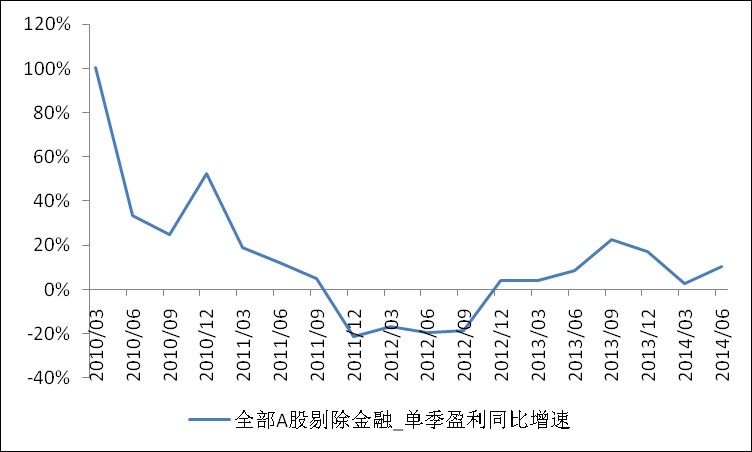 Growth YoY in quarterly earnings of all A-shares (Excluding financials)

Source: Wind Info, as of 30 June 2014
Changes in Interest Rates
1. Both interbank and bill discount rates were trending down from early this year, with the latter stabilized at around 4% at present. Long-term interest rates (represented by 10-year Treasury bonds), despite a drop from early this year, stay significantly higher above the historical average. The significantly higher interest rates against a macro backdrop less favorable than 2007 is the rationale of the State Council's reiteration on lowering financing cost.
2. Executive meetings of the State Council: decision on the issue of high financing cost (May 30); new 10 Opinions on Financials that re-emphasized the significance of lowering corporate financing cost (July 23); and the Guides of the General Office of the State Council on Multiple Initiatives to Mitigate High Corporate Financing Cost (August 14). To sum up, lowering financing cost is a task not less urgent than stabilizing the short-term growth. As the policy package on lowering financing cost is to take effect over time, the interest rate expectation is neutral with a bias to downsides.
Figure 7: Bill discount monthly rate (6-month) and SHIBOR (1-week)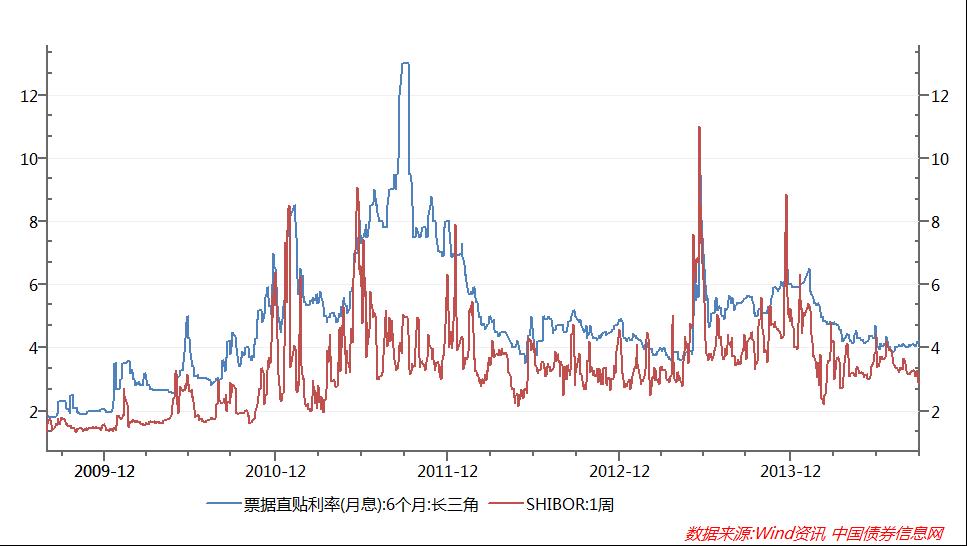 Bill discount monthly rate (6-month) for Yangtze River Delta

SHIBOR (1 week)

Source: Wind Info, ChinaBond.com.cn, as of September 30, 2014
Figure 8: China's Treasury Bonds YTM (10-year)
China's Treasury Bonds YTM (10-year)

Source: Wind Info, ChinaBond.com.cn, as of September 30, 2014
Recommended Allocation
Primarily based on fundamental changes, such as:
a. macroeconomic statistics to fluctuate within a narrow range; almost zero inflation pressure; mixed corporate earnings with a downside expectation as a whole;
b. financing costs staying high vs. the rate cut policy package to take effect; and
c. complementary themes of reform and growth stabilization with the initiatives of the 18th Party Congress to gradually implement, including reforms on SOEs and land ownership, etc.,
we recommend rebalancing A-share allocation from three perspectives as below:
a. industry and individual opportunities from the reform on SOEs, such as improving profitability of competitive businesses in national defense and SOEs as well as individual names under the SOE reform theme;
b. selected opportunities from new economy and innovative models, such as online education, O2O, land ownership reform, etc.; and
c. some traditional blue chips that have priced in significant corrections with almost zero institutional positions, where leaders in certain sectors with insignificant capacity pressure are set to rebound upon short-term demand catalysts.
- END -
CERTIFICATION
For each company mentioned in this research report, the respective analyst – or analysts who cover the company certifies that all of the views expressed in this research report accurately reflect the analyst's or analysts' personal views about any and all of the subject issuer(s) or securities. The analyst or analysts also certify that no part of analyst's compensation was, is, or will be directly or indirectly related to the specific recommendation(s) or view(s) in this report. The analyst does not have any interest on the subject issuer(s) or securities or its affiliates.
IMPORTANT DISCLOSURES
This document is for information purposes only. Information has been obtained from sources believed to be reliable but E Fund Management (HK) Co., Limited or its affiliates do not warrant its completeness or accuracy. Opinions and estimates constitute our judgment as of the date of this material and are subject to change without notice. Past performance is not indicative of future results. This material is not intended as an offer or solicitation for the purchase or sale of any financial instrument. Securities, financial instruments or strategies mentioned herein may not be suitable for all investors. The opinions and recommendations herein do not take into account individual client circumstances, objectives, or needs and are not intended as recommendations of particular securities, financial instruments or strategies to particular clients. The recipient of this report must make its own independent decisions regarding any securities or financial instruments mentioned herein. E Fund Management (Hong Kong) Co., Ltd and its affiliates, employees, family members or related parties expect or intend to hold, transact or in any mean such as agent or principal to deal with the subject issuer(s) or securities.
This research report has been published in accordance with our research policy stated in our General Compliance Manual.
© 2014 E Fund Management (HK) Co., Limited. All rights reserved. Any unauthorized use, duplication, redistribution or disclosure is prohibited by law and will result in prosecution. E Fund Management (HK) Co., Limited or its affiliates accepts no liability whatsoever arising out of, or on connection with this report.