Summary: With expected return could only be realized via price gains from even deeper-negative interest rates, local buyers of negative-yielding debt are typical Ponzi-speculators. Their faith in forever slower growth and weaker inflation looks increasingly fragile given changing social and political trends.
Weakening economic growth, falling inflation expectations and elevated political uncertainty have triggered coordinated easing from global central banks. With ample liquidity flooding the market, global government bond yields, based on statistics from Bloomberg Barclays Global Aggregate indices, have plunged to the lowest level since mid-2016. Meanwhile, at US$ 13.7 trillion, the amount of negative-yielding debt has reached a new record high.
The negative-yielding contagion seems unstoppable. With around half of the negative-yielding debt in the world rated single-A, triple-B debt is the only realistic option for European IG investors to earn a positive return. Yields have even turned negative on 14 euro corporate junk bonds. In Denmark, 20% of home mortgage debt can be refinanced at negative yields, Austria's 100-year government bond is currently trading at 1% yield, and around $246 billion of emerging market debt has sunk into the negative-yielding hole.
Chart1. Global Bond Yields vs. Amount of Negative Yielding Debt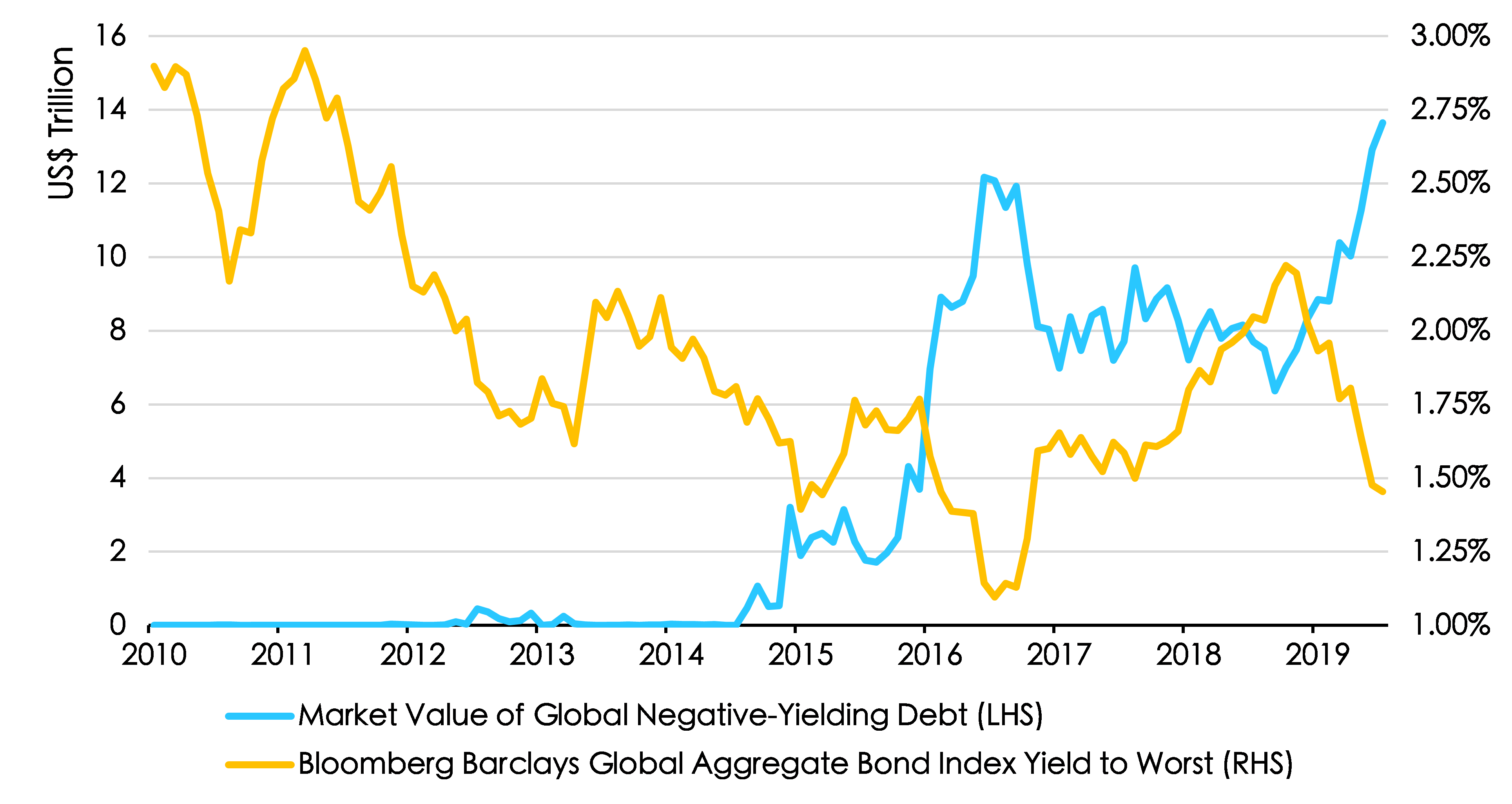 Source:Bloomberg、Barclays、E Fund Management,Data as of 2019/7/26.
Negative-yielding debt essentially means lenders are paying the borrowers to borrow money, which is in violation of the principles of the credit market. But in the real world, it makes some sense for investors in that slower economic growth and falling inflation always spur more monetary stimulus from central banks to push yields even lower. In fact, anyone betting on falling 10-year Japanese yields over the past two decades has made handsome money. With investors screaming for a "Japanified Europe", negative yields look like a black hole – once you are trapped, you will never escape.
However, it is increasingly evident that low yields are doing more harm than good to the economy. Contrary to central banks' wishes, lower interest rates have done little to stimulate productive investments but boost potential asset bubbles instead. Institutional investors, particularly banks and insurance companies, are pushed to seek higher-yielding assets by extending duration and lowering credit standards, as their net interest rate margin is being squeezed. Since Japan pioneered zero rate policy in 1999, many Japanese banks are still struggling to find productive investments domestically and their share prices have underperformed the broad index by nearly 75%. Today, Japanese regional banks have become the most active player in the U.S. CLO market and played a vital role in boosting the share buyback mania of Corporate America.
Chart2. Relative Performance of Japanese Bank Stocks

Source:Bloomberg、E Fund Management,Data as of 2019/7/26.
Central banks could inflate asset prices by cutting rates but a magician can never be a real wealth creator. Similar to some countries relying on uneconomic public spending to inflate GDP with poor future returns, lowering borrowing costs may extend credit creation but it does not necessarily bring productive investments. Artificially low interest rates have failed to stimulate entrepreneurship, instead they have allowed zombie corporates, banks and even governments to maintain their status quo and avoid painful but productive reforms. Central bankers are blaming falling productivity growth for a declining real equilibrium interest rate (R*) to justify lower policy rates, but as data on the U.S. indicates, it is their accommodative monetary policies that suppress future productivity growth. Cutting rates is not the solution to our problems. Conversely, it is the cause of many social challenges facing us today.
Chart 3. Real Policy Rate and Future Productivity Growth in the U.S.

Source:Bloomberg、E Fund Management,Data as of 2019/7/26.
Accommodative monetary policies are in effect taxing ordinary savers and rewarding asset owners, sharpening wealth inequalities. It will be inconceivable for our children many decades later to understand our current world in which billions of wage earners struggle for better education, healthcare and housing conditions while suffering eroding returns on their savings due to declining interest rates. On the contrary, billionaire asset owners receive stable cash flows from rents, dividends and coupons are enjoying asset price appreciation without too much effort. Unfortunately, this is the distorted reality fostered by central banks.
Investors receiving negative yields for hoarding long-duration developed markets bonds are essentially assuming the current norm of slower growth and weaker inflation will sustain. Nevertheless, this situation cannot last for too long. As discussed in our previous notes, widening inequalities have triggered social movements to fight against globalization, immigration and free capitalism. Facing all the headwinds from the current social and political trends, the trend of rising margins and falling inflation in the past 30 years is increasingly unsustainable. With populism spreading all over the world, the boom days of financial assets may be behind us.
The path of least resistance could be a monetized fiscal expansion. Last week, the U.S. announced a bipartisan agreement to suspend the debt ceiling and boost spending over the next two years. It is by far the clearest signal that both parties now advocate larger fiscal deficits, a sharp contrast to the consensus of sequestration inside Washington five years ago. When the next fiscal adventure begins, central banks probably will learn from the lesson last year to keep borrowing cost low to avoid the collapse of financial asset prices. Remember the Federal Reserve capped long-term Treasury yield at 2.5% during the decade of 1940s in order to finance wartime deficits. This time the urgency to compete with geopolitical rivals is likely to justify their actions.
What does that mean for investments? History shows negative total returns in inflation-adjusted terms for bonds during 1940s despite the cap on nominal bond yields since surging fiscal deficits, capacity constraints and efficiency losses spurred runaway inflation. A new phase with elevated financial asset valuations and structurally rising inflation, owing to higher costs from de-globalization, ageing populations and more government intervention, are likely to have a similar outcome.
Chart 4. Real Return on Bonds during 1940s Was Deeply Negative

Source:Bloomberg、Haver、NYU Professor A. Damodaran、E Fund Management,Data as of 2019/7/26. *Note: We use Prof. Damodaran's estimation on the U.S. 10-year Treasury total return as a proxy for U.S. Treasury total returns prior to 1973.
With their expected returns dependent on ever-deeper negative interest rates, buyers of negative-yielding debt are typical Ponzi-scheme speculators. They are buying not based on fundamental value but based on the belief that they can sell to someone else at an even higher price. With cost-driven inflation emerging structurally and central banks depleting their weaponry to further lower interest rates, I foresee an extremely negatively-skewed risk-reward tradeoff in the long run from these investments.
Money Never Sleeps, Good Luck Trading!
Disclaimer
•This is neither an offer to sell nor a solicitation of any offer to invest in any of the funds or products managed by E Fund Management (HK) Co. Limited.
•There are risks associated with investing, including loss of principal. Past performance is not indicative of future performance and is no guide to future returns. Before deciding to invest, investors should read the offer documents carefully including the investment objective and risk factors relating to the funds or products.
•This material contains general information only and is not intended to represent general or specific investment advice. This material may contain "forward-looking" information that is not purely historical in nature. Such information may include, among other things, projections, and forecasts, estimates of yields or returns. This materials not intended to be relied upon as a forecast, research or investment advice, and is not a recommendation, offer or solicitation to buy or sell any securities or to adopt any investment strategy. The opinions expressed are as of the day of distribution and may change as subsequent conditions vary.
•E Fund Management (Hong Kong) Co., Limited. has based this document on information obtained from sources it believes to be reliable but which it has not been independently verified. Information, opinions and estimates in this document reflect a judgment at its original date of publication and are subject to change without notice.
•The document is confidential and is supplied to you solely for your information. It should not be reproduced or further distributed to any person or entities, whether in whole or in part, for any purpose.
•Some of the funds or products mentioned here in have not been registered with the Securities and Futures Commission for offering or distribution in Hong Kong and may not be offered or sold whether directly or indirectly, to any person in Hong Kong other than to a Professional Investor (as defined in the Securities and Futures Ordinance and any rules made under that ordinance).
•This document is not advertisement. The contents of this document have not been reviewed by the Securities and Futures Commission in Hong Kong.
Copyright© 2019. E Fund Management (Hong Kong) Co., Limited
Contact Details:
Department of Marketing & Strategy(Jenny Pan)
3929 0976 / jenny.pan@efunds.com.hk
Department of Client Service
3929 0960 / clientservice@efunds.com.hk